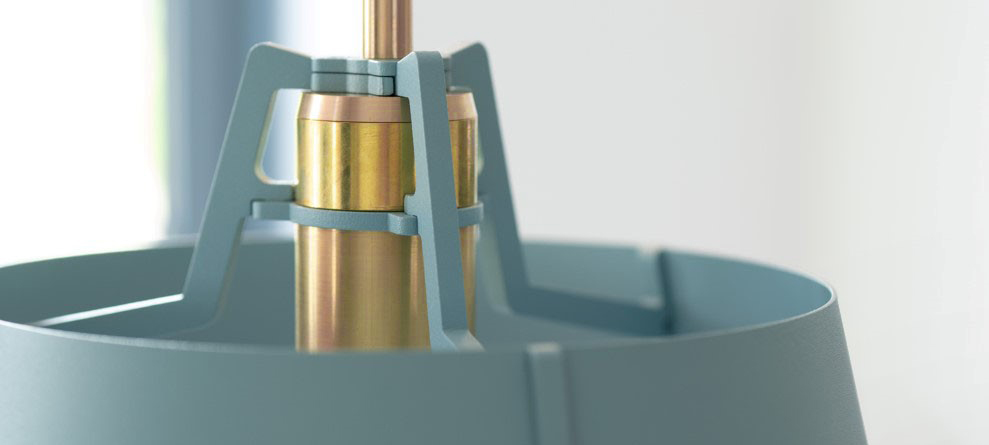 Bella Pendant Lamp
The Tonone Bella is a lamp that adds style and character to your interior. The design is functional, but also contains the typical layering that is created by Anton de Groof. This keeps you looking at the hanging fixture long after the first glance.
What is truly remarkable about the Bella Pendant is the screwless design. The lampshade is crafted with three ribs, which arise from the center of the lamp. In those ribs you will find a slot, where you can clamp the loose plates of the shade. This creates a solid and completely closed lamp, making sure that the light only shines where you want it to: upwards and downwards.
As a hanging lamp, the Bella Pendant is perfect to place over a dining table. But she herself says that she is not picky about where she hangs out. Your kitchen island, your living room or even your home office: she will feel right at home at any of these places. Will your place be next?
The Bella Pendant is available in 11 colors: Ice Blue (light blue), Smokey Black (black), Flux Green (green), Pure White (white), Ash Grey (light grey), Midnight Grey (dark grey), Lightning White (cream white), Striking Orange (orange), Thunder Blue (blue), Daybreak Rose (pink) and Sunny Yellow (yellow).
To completely customize the design to your liking you are able to make another decision: the color of the fitting. The fitting of the Bella lamp is available in both black and brass. Black is a classic and timeless option, brass is bold and more daring. Whichever color you choose, both options can be combined just as easily.